HELP
Step 1.
Whether this is your first time starting a new club, reestablishing one, or you're just looking for ways to further your club, this guide will help you grow your student organization.
Starting you club can be difficult, but with the support of new members and a little determination it can be a very rewarding experience. Students are looking for hobbies and ways to make friends. They want to play disc golf! And once they start, you know they'll be obsessed!

Prepare, Recruit, Retain, and Compete

Starting a disc golf club requires dedication and a supportive approach to attract and retain members. The process involves creating a welcoming atmosphere for beginners, recruiting through various means including campus activities and social media, and emphasizing the benefits of joining the club.

Retaining members involves structuring practices, fostering a positive learning environment, mentorship, and promoting social bonding. Communication is key, and maintaining contact lists and utilizing social media platforms like Facebook is crucial.

The first meeting should establish club goals and a clear vision, considering factors like tryouts, tournament participation, commitment levels, and social aspects. Identifying and addressing club needs, such as coaching, leadership, funding, logistics, and technology, are essential for a successful club.
Step 2.
Don't see your school? OR ARE YOU THE NEW CAPTAIN? Reach out to us and find out how to register!
Teams need to be registered with College Disc Golf to compete in CDG events.
Use our team page to search for your school.

Registering a school with College Disc Golf can offer several benefits for both the students and the institution:

Organized Competition: College Disc Golf provides a structured platform for organizing disc golf tournaments and competitions among different schools. This helps create a sense of camaraderie and healthy competition among students, promoting teamwork and sportsmanship.

Community Building: Joining College Disc Golf allows schools to become part of a larger disc golf community. Students can connect with like-minded individuals from other schools, fostering friendships and networking opportunities.

Skill Development: Participating in College Disc Golf events provides students with opportunities to enhance their disc golf skills. Regular competitions and practices can lead to improved athletic abilities and a deeper understanding of the sport.

Leadership and Management Experience: Registering with College Disc Golf may involve appointing leaders or officers to manage the school's disc golf club or team. This provides students with valuable leadership and organizational experience, enhancing their personal and professional development.

Representation: Being affiliated with College Disc Golf allows schools to be recognized and represented within the broader disc golf community. This recognition can lead to increased visibility for the school and its disc golf program.

Access to Resources: College Disc Golf often provides resources, guides, and support for organizing events, recruiting new members, and managing club activities. This assistance can streamline the process of establishing and running a successful disc golf club on campus.

Scholarship Opportunities: Some College Disc Golf organizations offer scholarship opportunities for talented disc golfers. This can be an attractive incentive for students who excel in the sport and wish to continue their education.

Connection to Disc Golf Industry: College Disc Golf partnerships may provide schools with opportunities to collaborate with disc golf equipment manufacturers, retailers, and other industry players. This could lead to sponsorships, discounts, or other forms of support for the school's disc golf program.
Contact Us
Step 3.
Reach out to conference leaders to join and participate in their events. If you don't see one near you, or the one you're interested in is already full, start your own!
Participating in a conference is a requirement to play in Regional events.

Use our conference page to search for a conference near you.

A college disc golf conference is a formal organization or association that coordinates and oversees disc golf activities and competitions among different colleges and universities within their area. Similar to how college sports conferences operate for traditional athletic programs, a college disc golf conference focuses specifically on the sport of disc golf at the collegiate level.

The main purposes of a college disc golf conference are to:

Organize Tournaments and Competitions: The conference coordinates and hosts disc golf tournaments and competitions where teams from different colleges and universities come together to compete. These tournaments may include individual and team events, providing opportunities for students to showcase their disc golf skills.

Facilitate Intercollegiate Play: The conference creates a structured platform for intercollegiate play, allowing students to represent their schools in competitive disc golf events. This promotes school pride and a sense of camaraderie among participants.

Establish Rules and Guidelines: The conference establishes and enforces rules and guidelines for participating in college disc golf competitions. These rules ensure fair play, sportsmanship, and a consistent experience for all participants.

Promote the Sport: By organizing events and competitions, the conference helps promote the sport of disc golf within the college community. This can lead to increased awareness and participation in disc golf among students.

Provide Networking Opportunities: College disc golf conferences offer students the chance to connect with fellow disc golf enthusiasts from other colleges and universities. This networking can lead to friendships, collaboration, and shared experiences.

Recognize Achievements: The conference may recognize outstanding performances and achievements by presenting awards, trophies, or other forms of recognition to top-performing individuals and teams.

Support and Resources: College disc golf conferences may provide support and resources to member schools, including guidance on starting and managing disc golf clubs, organizing events, and accessing equipment.

Scholarship Opportunities: Some conferences may offer scholarship opportunities for talented disc golfers, providing financial incentives for students to excel in the sport while pursuing their education.

It's important to note that the structure and activities of college disc golf conferences can vary. Conferences are region-specific and the rules vary greatly. They play a significant role in fostering a competitive and engaging environment for college students interested in disc golf, helping to grow the sport and create a lasting impact within the collegiate community.
Step 4.
Fill out the form, submit it to your reigstar and they should take care of the rest. Rosters can be adjusted and submitted multiple times per season.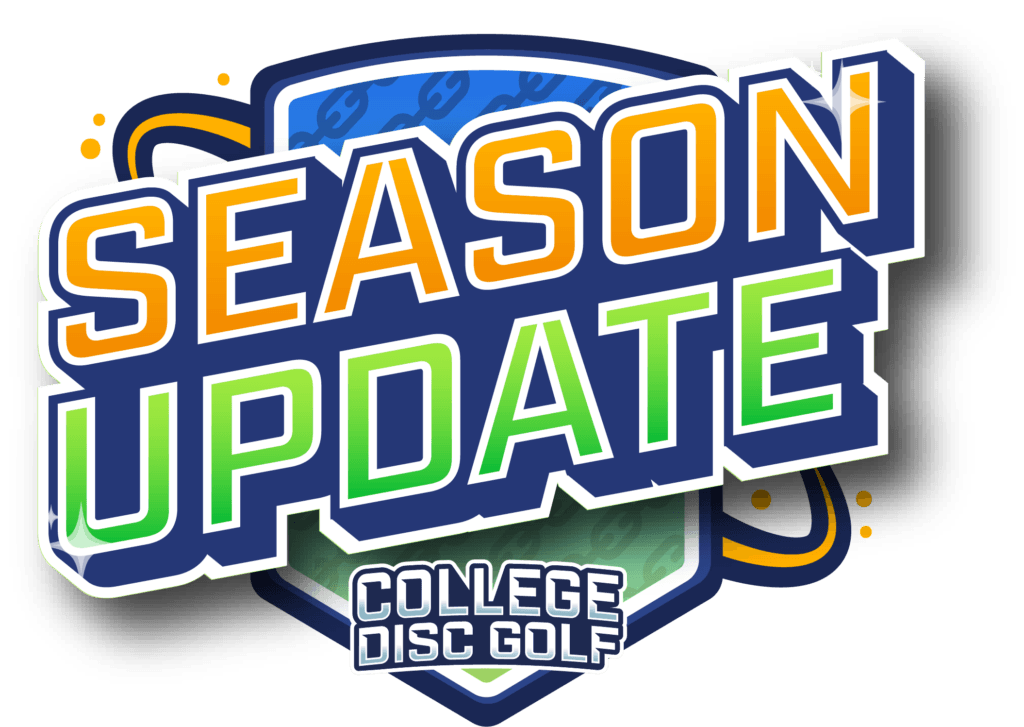 You must submit a roster two weeks before competing in a Regional.

Use our conference page to search for a conference near you.

Team Management: A roster helps in efficiently managing the members of the college disc golf team. It provides a comprehensive list of team players, their contact information, and other relevant details, making it easier to communicate, coordinate practices, and organize events.

Eligibility and Compliance: Maintaining a roster ensures that team members are eligible to participate in official college disc golf competitions. It helps ensure compliance with any rules or requirements set by the college, the disc golf conference, or the governing body of the sport.

Player Identification: During tournaments or matches, an official roster can be used to verify the identity of players and confirm their eligibility to compete. This prevents any confusion or disputes that could arise from mistaken identities.

League and Conference Requirements: College disc golf conferences may have specific roster requirements or deadlines for submitting team rosters. Adhering to these requirements is crucial for ensuring eligibility and participation in conference events.

In summary, a college disc golf roster is a fundamental tool for effectively managing a team, ensuring compliance, facilitating communication, and maintaining accurate records. It plays a vital role in both the logistical and competitive aspects of college disc golf, contributing to the overall success and organization of the team.
Step 5.
Memberships can be purchased individually or as team and assigned to your members. Follow our help section to find out how.
CDG Memberships do not include PDGA memberships this season.
Purchase your membership on the CDG site.
Players, do you see the current season's membership on your account page? If not, there is not a membership assigned to your account. Reach out to your team leader to assign a membership or purchase one yourself.
Team leaders, players can purchase memberships individually or you can purchase them and assign them. To assign them, navigate to your account page and click the team name you'd like to manage. Using the same email that was used during the player creation process, you can assign players to the team. You can also share a link with them to access the team.
*Team designation/assignment does not matter for memberships. The teams on your "My Account" page are for membership purposes only. A "Team" will be created each time you make a purchase. Players do not need to all be on the same team, everyone just needs a membership assigned to their account.
Step 6.
Teams can earn their bid to Nationals at a Regional event.
A college disc golf regional is a PDGA sanctioned event within the college disc golf season that brings together disc golf teams from a specific geographic region to compete against each other. These regional events are part of the broader structure of college disc golf, which includes local, regional, and national competitions.

46 Bids will be awarded for DI and 92 Bids will be awarded for DII.

Example: results and bids for an event with 3 bids to DI and 3 bids to DII.

| | | |
| --- | --- | --- |
| Place | Team | Bid |
| 1 | School 1 – A | DI |
| 2 | School 2 – A | DI |
| 3 | School 1 – B | DII |
| 4 | School 3 – A | DI |
| 5 | School 2 – B | DII |
| 6 | School  4 – A | DII |
| 7 | School 5 – A |   |

Key features of a college disc golf regional include:

 Teams need a bid from their conference to be invited to participate in a regional event. Eligibility criteria may include factors like performance in previous tournaments, conference standings, or other qualification standards set by the organizing body.
Regional tournaments typically feature various formats, such as team matches, individual stroke play, or a combination of both. The specific format can vary from one regional event to another. One round of alternating team doubles is the only format requirement.
The results of regional tournaments will contribute to a team's ranking. Rankings may influence seedings for future regional or national competitions.
Regional tournaments serve as a stepping stone to the national level. The top-performing unqualified teams from different regions often advance to the national championship, where they compete against teams from other regions to determine the best college disc golf team in the country.
Regional tournaments contribute to the growth and development of college disc golf by providing players with a competitive and exclusive experience with exposure to a higher level of play.
Regional events are hosted at disc golf courses within the designated region. Organizers manage the logistics, scheduling, and administration of the tournament.

Overall, college disc golf regionals play a crucial role in the structure of collegiate disc golf by providing a competitive platform for teams to showcase their skills, earn recognition, and advance to the national stage. They contribute to the vibrancy and competitiveness of college disc golf while offering players a chance to engage with the broader disc golf community.
Step 7.
Participate in the College Disc Golf National Championship, a PDGA Major in Rock Hill, SC April 6-9, 2024.
TEAM COMPETITION

Teams are generally comprised of four players. Teams may compete with fewer players but will be at a disadvantage.

Team rounds are played with two sets of teammates, one ODD pair, one EVEN pair. The ODD set will tee off on every odd-numbered hole, while the EVEN set tees off on every even-numbered hole. After the tee shots, the team chooses which of the two lies to play. From there, the set that did not tee throws their two shots. Again, the whole team decides which lie to play from and the set that teed off would throw. That alternating process continues until the hole is complete. On the next hole, the corresponding set of teammates according to the hole number, ODD or EVEN, would tee off no matter which set putt out on the previous hole. This format allows for each player to tee off the same amount of times and for teams to play as a whole. Each hole has two teams playing together as an eight-some.

In the event that there are less than 4 players on a team, the individual without a partner will only have one throw per turn.

Women's Division – Female players will engage in regular doubles play with a partner.

SINGLES PLAY

All singles rounds will count toward the team score for all mixed team divisions. The team's singles round score is the averaged score from each player. Each player's score will be averaged and that average will count toward the team score.

For the Women's Championship, the sum of the 2  singles scores counts toward the cumulative team score. Each hole should have no more than two teammates competing to prevent conflicts when making rules calls.

PLAYER ELIGIBILITY

All players participating on a team for the Regional Qualifiers and the National Championship must be listed on the team roster.

All players competing in the National Championship must be current PDGA members in good standing. Players who are not current members must login to their accounts and purchase a membership prior to being rostered. Non-members who do not register by the post-season competition dates will be ineligible to play until they have the appropriate membership.

All players are limited to competing in the College Disc Golf National Championship six times. Players that have competed in their sixth National Championship are no longer eligible to compete in Regional Qualifiers or conference championships.

All players must be certified as amateurs or professionals per the PDGA. Those who meet the standards and qualify as a Premier Professional (formerly Touring Professional) or were designated as a Premier Professional within the past five years are not eligible to participate.

All players on the team must meet the player requirements and the team must meet the team requirements of the College Disc Golf Eligibility Rules throughout the entire post-season competition.

Eligibility status will be checked by College Disc Golf through the rostering process, in conjunction with information from school registrar offices, as well as using information from the PDGA and team records.
College Disc Golf reserves the right to use additional relevant information, should it become available, in a fair and consistent manner to ensure player and team eligibility standards are met throughout post-season competition.

Player eligibility status may be re-checked at any point prior to, during, or following the post-season. Rosters will be randomly re-verified with school registrar offices following each post-season competition (i.e. conference championships, Regional Qualifiers, and the National Championship).

Failure to abide by any of the above rules may result in ramifications outlined in the guideline sections, Violations and Sanctions.