Welcome back to College Disc Golf! We are one month into the season, and as the fall weather cools things down, College Disc Golf is heating up. We are thrilled to unveil the first College Disc Golf Power Rankings of the 2023-2024 season, here is a quick look at the current competitive landscape.
Men's Team Rankings
On the men's side, the season has kicked off on a promising note. The reigning national champions, the University of Cincinnati, continues to dominate the rankings. On their heels is Oklahoma Christian who has made an impressive leap, charging up 29 spots, in our power rankings. Many shifts have occurred since last year. Alongside Oklahoma Christian, 11 other teams in the top 20 have risen through the power rankings. Most noteworthy though is Wisconsin Platteville, who are up 58 spots from last year!
Below you can find a more in depth look at the top twenty teams in the College Disc Golf Men's Division
Women's Team Rankings
The women's division has seen an equally impressive start to the season. The University of Missouri continues to assert their dominance, securing the top spot once again. A new team to College Disc Golf that has made a notable entrance is Oklahoma Christian. Roaring out of nowhere they have claimed the number two spot in our standings. Rounding out the top five are Liberty, Brigham Young, and UNC Charlotte. What's particularly noteworthy is that alongside Oklahoma Christian, five additional new teams have made their mark, breaking into the top twenty for this season.
Below is a more in depth look at how this season has transpired in the Women's Division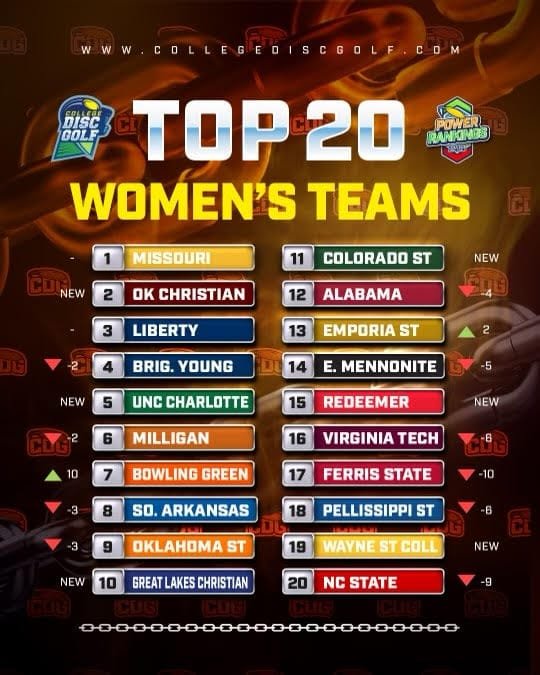 Looking Ahead
If you're craving more College Disc Golf excitement, look no further! This weekend marks the West Coast College Open in Monterey, California, and by how events have unfolded so far, this tournament promises to be brimming with action!
For all things College Disc Golf, follow along here and on our social media channels, @collegediscgolf