This year, the Rocky Mountain Conference has exploded with activity. Where we used to only have two events per season, we now have four conference events, a conference championship, and our regional qualifier. This is largely due to our new conference championship system where each event gives out points to see who will become this year's conference champions. Everyone wants to go to every event, but it's not just for that title and trophy. We also just love spending time together. We camp with each other when we go to tournaments out of town. When we host events, our players clear space in their homes to allow teams to stay in their living rooms. In this conference, we don't have rivalries. We have camaraderie.
That's not to say we don't love to compete. Andy Jacobs, the head of our conference, directed a fantastic regional qualifier in Palisade, CO on October 6-7. The Colorado Mesa team helped set up the course and locals came out to spot and help in any way possible. The event was run so smoothly, and details were checked over and over to be sure that everything was top notch before play began. I swear all our leadership in the conference is becoming experts in running events because this event was communicated so well and effectively. If something did not seem right, everyone found the rule to be sure that the setup was perfect and aligned with PDGA standards.
The competition was also fierce. Not only did it come down to one stroke between 1st and 2nd place, but there was only one stroke separating 1st, 2nd, 3rd, 4th, and 5th place. Everyone in this conference has competition in their bones, and they know how to act on it. In the end, when Colorado School of Mines took the win, everyone didn't just applaud, we cheered. We love our conference and everyone in it. And we love to see them succeed.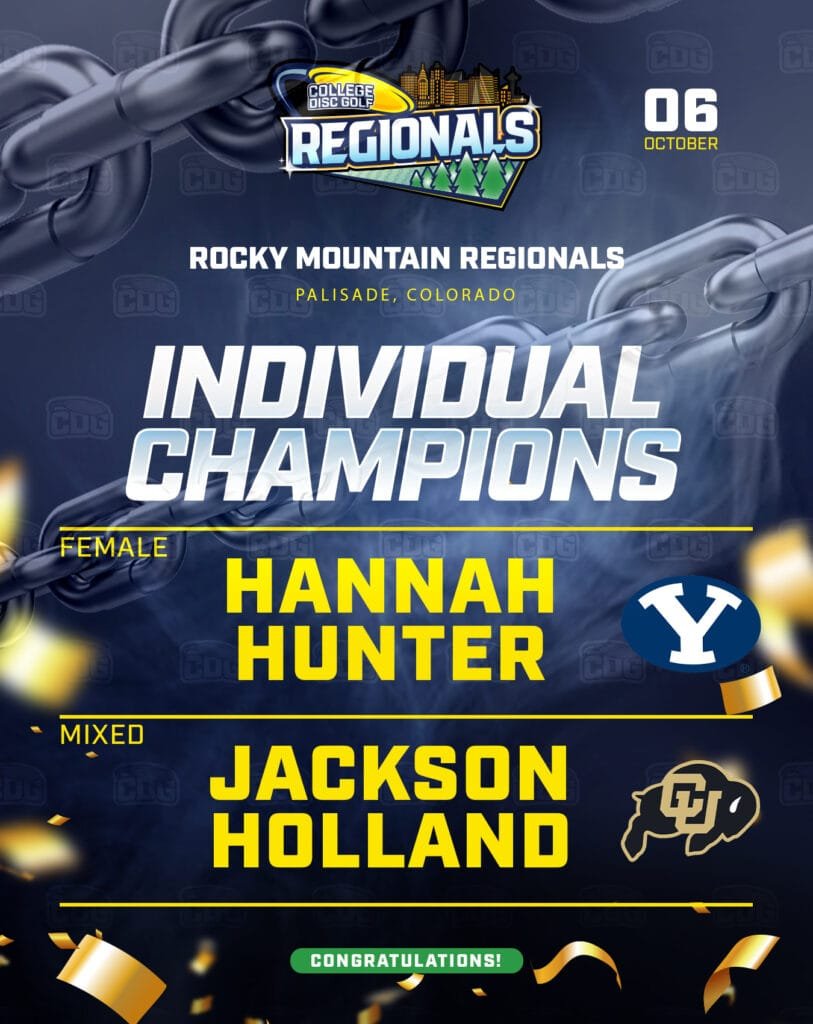 The Rocky Mountain Conference keeps looking at who we are and finding new ways to not only make our competition better but also to make our community better. I don't know if we are the best conference to compete in, but I do know we are the best conference to be in.